In Memory
Jeanne Pauline Young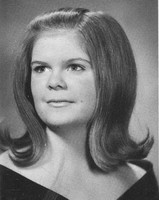 "I want to go to the show. I wish Daddy would come back with
the car (& his money)."
"The Oxfords played at the TWIRD dance. It was great!"
"Just let God handle everything."
"I can't wait to see your church. I really love beautiful churches. I really feel close to God."
"My Holly Spring friend's dad died yesterday. Strange how much closer people feel in times of need. That's a nice thing to know."
"I've decided that I appreciate thoughtfulness in a person more than anything else."
"I'm sitting in study hall writing you and watching everyone. I realize more things about people this way - by just watching them. It's so fun!"
"I wonder what thrilling incident will happen to me tomorrow! Can't wait to see!"
"Mrs. Ledford told the Pep squad today that we have to wear bobby socks because some mothers were complaining about the runs in stockings!"
"I'm just bursting with feeling!" (She said that a lot in her letters.)
Excerpts from letters sent by Jeanne to Susan Richardson Dale 1966-1968.
Jeanne Young, as many of you remember, was an incredible person. Her quick smile and laughter brought much joy to those who worked around her. She always gave 100% to any task set before her as her bubbling personality brought out the best in those around her. God gave her an incredible talent of singing which she used for His Glory. She was a wonderful friend and a devoted Christian---a true leader in our class…..with so much to offer. Her freshman year at Mississippi College, she was selected by her classmates as Freshman Favorite, and won the solo lead in their campus musical, Brigadoon. Jeanne and four of her friends were returning from practice one rainy night and were struck by a drunk driver. A precious life cut short. She died with all four of her friends. Jeanne, we will never forget you.
Submitted by Mary Evalyn Antoon Thomas