In Memory
Billy Quinn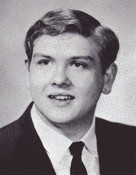 William (Bill) F. Quinn
(February 18, 1949 - January 29, 2012)

Greenwood, MS: William F. "Bill" Quinn, 62 died Sunday January 29, 2012 at the Greenwood Leflore Hospital. Funeral Services are 2 P.M. Thursday February 2, 2012 at Wilson & Knight Funeral Home Chapel with interment in Odd Fellows Cemetery. Visitation will be from noon till service time Thursday at Wilson and Knight Funeral Home. Bill was a native and lifelong resident of Greenwood, a graduate of Greenwood High School and attended the University of Southern MS. He had worked as an agent for Southern Burial Insurance of Greenwood but had been disabled for some time and resided in Crystal Health and Rehab. Bill was a very kind person who loved people.
He is survived by his wife of 18 years, Diane Mills Vest Quinn of Greenwood, a step-daughter Melinda Burkett, a granddaughter Siegelinde Burkett and two great grandsons all of Eupora, MS, three brothers, Jesse Quinn, Jr. of Dallas, TX, James Quinn of Greenwood, MS and Robert Quinn of Clinton, MS and several nieces and nephews.
Pallbearers are Peter Buchanan, Jim, Quinn, Patrick Quinn, Freddie Mask, Terry Barnes and Justin Quinn. Donald Lee Garrett will serve as an honorary pallbearer.